Get the most accurate meter reads!
Print Audit® Infinite Device Management is designed to remotely collect meter reads, automate supply fulfillment and report service information for managing fleets of printers & multi-function devices.
Add value to your product offering while ensuring your customer's loyalty and increasing your profits!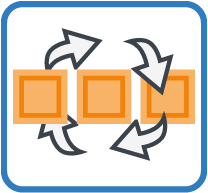 Automate your Supplies and Service Management
SMART ALERT SYSTEM
Powerful filtering capabilities inform you at the right time — not all the time
Gives you the power to configure your alerting needs
Accurately predicts number of days to toner depletion
1. Request for registration via our contact form with rough indication of number of printer and MFP´s.
2. After acquisition of a Portal license you will install the Information Collection Engine ICE on one PC in your network.These data we will be transmitted to the IDM data base.
3. You will get password and login data for your space in the IDM that only you have access to and may customize according to your customers environment.
4. After the preparation of portal is finished all device data will be frequently reported and shown in the Device Portal. Only such devices will be scanned which the IP adress is maintained of in the data base. That gives you high security.
5. You setup your first customer with his devices and can extend on unlimited number of customers, branches or locations with their separate device fleets. *)
That´s it !
What about security?
By applying latest security standards the system communicates safely only device data without touching any print data from the network. The device data can be only received by the authorised IDM server. If you wish the communication line between ICE and Device Portal server can be SSL encrypted. The ICE is only scanning such devices which you want to see.

Reports?
A comprehenceve reporting tool enables you to customize and taylor-made your report templates and export it.

Why and when should I use the IDM?
IDM is a dedicated device Portal for Managed Print Service - MPS which enables you to collect, view, sort, calculate, process and report the transmitted device data from all printer and MFP´s. With this system you establish a seamless communication line between your service system and the devices at your customers site. It is the ultimativ Device Portal as SaaS tool for remote counter reading, print cost analysis, cost controlling, telemetry and remote service and Fleet management. The periodical billing process becomes an automated routine of your IT system.
Moreover, the IDM enables you to make your daily service dispatching and onsite service activity more efficient. By knowing more about the background of the male function of your customer´s device you are in the position to bring the right spare parts in time and to avoid multiple visits. In other words: the first fix ratio can be increased and the total number of visits will be remarkable reduced. You may save between 15 % and 25 % of your total service cost, depending on the devices, the connectivity ratio and your service organisation.
Not only for office dealers, service providers, VAR´s and System Integrators but also for IT-managers, facility managers and accounting departments on customers site the IDM provides a complete monitoring and stock management for consumables (toner, paper) and help desk management. By sending automatically emails or SMS to dedicated persons the house keeping and IT service will be significantly improved and the consumable cost will be reduced.
If you wish, you can establish your own branded IDM for your customers in your Managed Print Service, Global Services Portal or how ever you call it.

Welche Kosten?
Das IDM kann kostengünstig für Ihre Anzahl von Geräten gemietet werden. Sie benötigen keine eigenen Server mit Hostingaufwendungen. Die monatliche Miete richtet sich nur nach der Anzahl der angeschlossenen Drucker und MFP´s. Mit einem einmaligen Installationsbetrag reservieren Sie sich die Plattform für Ihre Geräte.
Sprechen Sie uns an! Wir würden uns freuen, wenn wir Ihnen die für Sie beste Lösung zum Device Management Ihrer Bürogeräte unterbreiten können.
*) depending on the technical capability of the device